NEW – June 20, 2022
Anglo-Saxons are used to being able to fly anywhere in the world, fight there on the "right side" – and they will not be punished for it. It's time to dispel the sweet dreams of Bond and show in reality that it's better not to get involved in the affairs of Russians.
In the fourth month of the special operation, Russian troops captured other American mercenaries – 39-year-old Iraq War veteran Alexander Drueke (full name – Alexander John-Robert Drueke) and 27-year-old former Marine Andy Huynh. So far, the Americans have not been shown to journalists, but information about their capture is confirmed by reports on social networks and publications in Western media, which, among other things, managed to get comments from the colleagues of Drueke and Huynh.
The very first message about the capture of Americans appeared on the Twitter account of a group of French and American mercenaries called "Task Force Baguette".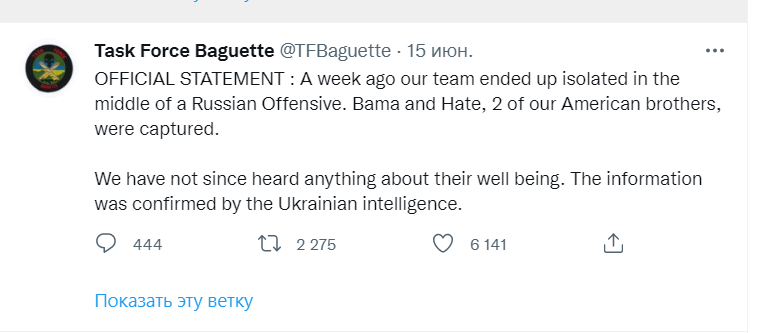 This official statement says that about a week ago, a group of mercenaries was blocked in the path of the Russian offensive. "Bama and Hate, 2 of our American brothers, were captured," the message reads.
The tweet also notes that the group since then has no information about the fate of the missing comrades, and the fact of their capture was confirmed by Ukrainian intelligence.
Ambush of Russian tanks
More detailed information was found out by the British Telegraph, whose journalists contacted both members of the mercenary group and their relatives in the United States.
Someone from "Task Force Baguette" said that Drueke and Huynh were captured during the battle that unfolded last Thursday, June 9, in the village of Izbitskoe, about 30 kilometres northeast of Kharkov and less than five kilometres from the border with Russia.
"We were out on a mission and the whole thing went absolutely crazy, with bad intel. We were told the town was clear, when it turned out the Russians were already assaulting it. They came down the road with two T72 tanks and multiple BMP3s [armoured fighting vehicles] and about 100 infantry," the source told the newspaper.
The Ukrainian-volunteer group, according to him, consisted of only 10 people. Therefore, they immediately retreated, putting a mine in the path of one of the tanks. Drueke and Huynh were preparing an RPG-7 anti-tank grenade launcher for battle. However, the Russians showed that they were not born yesterday: the advancing group moved on a wide front, so that BMPs and tanks covered each other.
"Everybody took cover waiting for one of the tanks to hit the anti-tank mine, but Alex and Andy saw a BMP3 coming from another direction through the woods and realised that it would kill most of us," said the participant of the battle.
The Americans tried to take out our BMP, but the T-72 crew reacted to their movement. Apparently, the tank fired a cannon at the mercenaries from a very short distance. The projectile did not hit the grenade throwers, but its close rupture apparently concussed both of them.
"It was all very chaotic," the source said. "We suspect that they were knocked unconscious by either the blast from the tank shooting at them, or from the anti-tank mine blowing up, because later search missions found not a sign of them. Afterwards, we sent drones up and had a Ukrainian search team on the ground, but we found nothing. If they had been hit by the tank shell, there would have been remains of their bodies or equipment at the scene."
Good cause
British journalists also spoke with relatives of the missing Americans. Drueke's 68-year-old mother said her son enlisted in the US Army after September 11, 2001. He accompanied convoys with important people in Baghdad, where he developed post-traumatic stress due to the constant strain. A psychological disorder prevented him from working in the police after completing his army career.
The beginning of the Russian military special operation in Ukraine made a deep impression on the veteran: Alexander saw an opportunity to use his army skills, as it seemed to him, for good.
"Alex felt strongly that Mr. Putin needed to be stopped, and that this would lead to a new world war. He said that he knows how to train people and can make a small contribution," shared the mother of the serviceman with journalists.
At first, Drueke assured his mother that he was exclusively engaged in training Ukrainian soldiers, but shortly before the last battle, he said that "he would be going dark for a few days."
"The US Embassy assured me that they are doing everything they can to find him, and that they are looking for him alive, not dead. I'm doing my best not to fall apart, I'm going to stay strong," said the American.
In turn, Huynh's fiancee Joy Black admitted that her chosen one was "very worried" about what was happening in Ukraine.
"They are attacking with 60 battalions, do you know how many that is?" the girl shared with journalists the subject of their conversations. "At first I didn't take him too seriously, but he was reading all these stories of young Ukrainians having to fight from the age of 18, and he felt he had to try to help. I tried to persuade him not to go, but I think his mind was made up. I could see how much it was eating at him. Eventually he apologised to me and said he had to really go there."
Recently, the girl was contacted by one of the members of the group and reported Huynh missing.
"I just want him back safe and sound," the American woman said.
It is noteworthy that both volunteers were fellow countrymen: Drueke was born and raised in the city of Tuscaloosa, Alabama, and Huynh, although he came from California, also lived in Alabama for some time.
Nothing personal
It is easy to see that the adventures, or rather the misadventures, of Huynh and Drueke in Ukraine are a story about honest, patriotic and brave, but very narrow-minded men who were brainwashed by American propaganda with a fair amount of slop, forcing them to abandon all business, family – and go halfway around the world to someone else's war. By the way, it is Western propaganda that is now blamed by the Briton Aiden Aslin, who also came to fight as a mercenary in the Ukrainian Armed Forces, was captured and sentenced to death in the DPR on June 9. The Briton admits to journalists that since 2014 he has been following the Ukrainian conflict and was initially "pro-Donbass and pro-Russian". He supported the reunification of Crimea with Russia and believed that the people of Donbass have the right to independence. But later, the media and propaganda encouraged Aslin to "change his views", which, in his own words, turned him into a "pawn in the political game."
Commenting on the situation with American prisoners for Tsargrad, military expert Vladislav Shurygin noted that so far there has been no evidence of capture specifically from our side.
"If we assume that there are any, then, of course, a citizen with a foreign passport who finds himself in the ranks of the Ukrainian Armed Forces can be considered a mercenary by us," he emphasised.
The further fate of these people, like earlier – their British colleagues, will be decided by the court, Shurygin added.
"They will have at least a huge prison term, and at most – the death penalty. In both cases, there will be a very small time gap for their countries to step in and offer something for them. If they don't do this, for example – they don't nominate our people who have been in American prisons for a long time – then, of course, we don't need their people at all, it doesn't make sense to feed them, and a bullet will be sufficient satisfaction for them," the expert explained.
White man complex
The West has always been characterised by a top-down view of other cultures and civilisations. Fifty years of American domination have only reinforced the perception among Europeans and Americans that they are the most advanced part of humanity, and that all other countries are ranked purely according to Western standards.
Hollywood action films, movies, and James Bond books convinced Anglo-Saxons that they could "clean up" any part of the world – and they would get no punishment for it. Wars with obviously weaker opponents reinforced this misconception.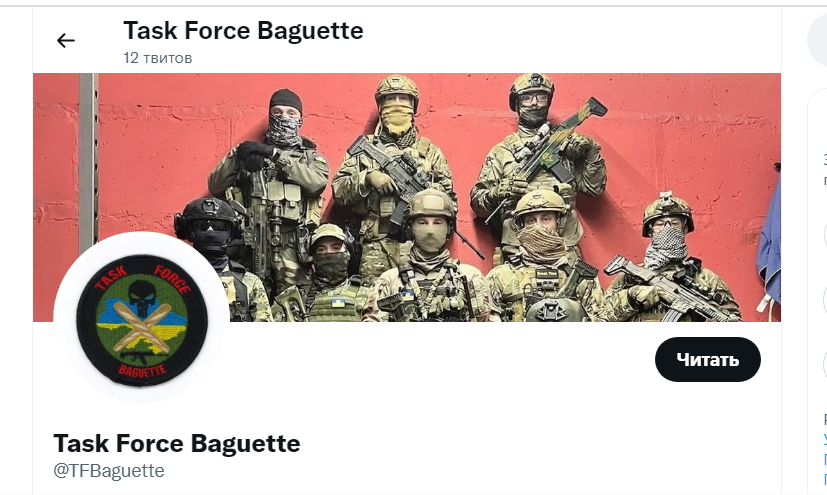 As a result, a peculiar subculture of "volunteers" has developed, mostly white men who, unable to arrange their own lives in the world of victorious liberalism, feminism, migrant love and gay tolerance, ride around the world trying to fight "on the right side". And we are not even talking about mercenaries of private military companies, who de facto earn money by killing for a comfortable old age. Many Americans, Canadians, and Britons have fought, and probably still do, on the side of the Kurds – without any payment. This is not a very massive, but well-formed subculture, stemming from the very foundations of the Western worldview.
A similar pattern was extended to Ukraine. However, the events on the southern Russian lands are our, one might say, family quarrel with befuddled Malorossiyans. And outsiders have nothing to do with this war. Alexander Drueke and Andy Huynh may be great guys, but their execution will send a message to the entire Western society: one ought to not interfere in Russian affairs. The impossible mission ends with the death of the performers, the helicopter does not arrive for the main character, and James Bond does not exist. Wake up, dear Americans.
---
Vlad Shlepchenko
Copyright © 2022. All Rights Reserved.