NEW – May 31, 2022
The "Azov" Chemist became famous for the brutal torture of the military, insults to religious believers and threats to the family of the head of Chechnya. How did he live and fight?
Under the symbol of Baphomet
Lieutenant of the National Guard of Ukraine, commander of the "Azov" platoon – 25-year-old David "Chemist" Kasatkin became known in the first days of the special military operation. Among the punishers, he turned out to be the most successful blogger, gaining about 150,000 followers on Instagram, TikTok and Telegram. On his social networks, Kasatkin published footage of murders, mixed them with reflections on life, diluted all this with black humour, and also flirted with girls, posted reports from strip clubs and insulted believers.
Trapped in the basement of the "Azovstal" Iron and Steel Works, David Kasatkin initially exuded confidence. He wrote a post where he promised to kill the head of Chechnya and punish his relatives. However, on May 14, realising that captivity was imminent, the nazi carefully cleansed social networks of anti-Russian content.
"At the moment, I can't comment on politics," he explained to his followers.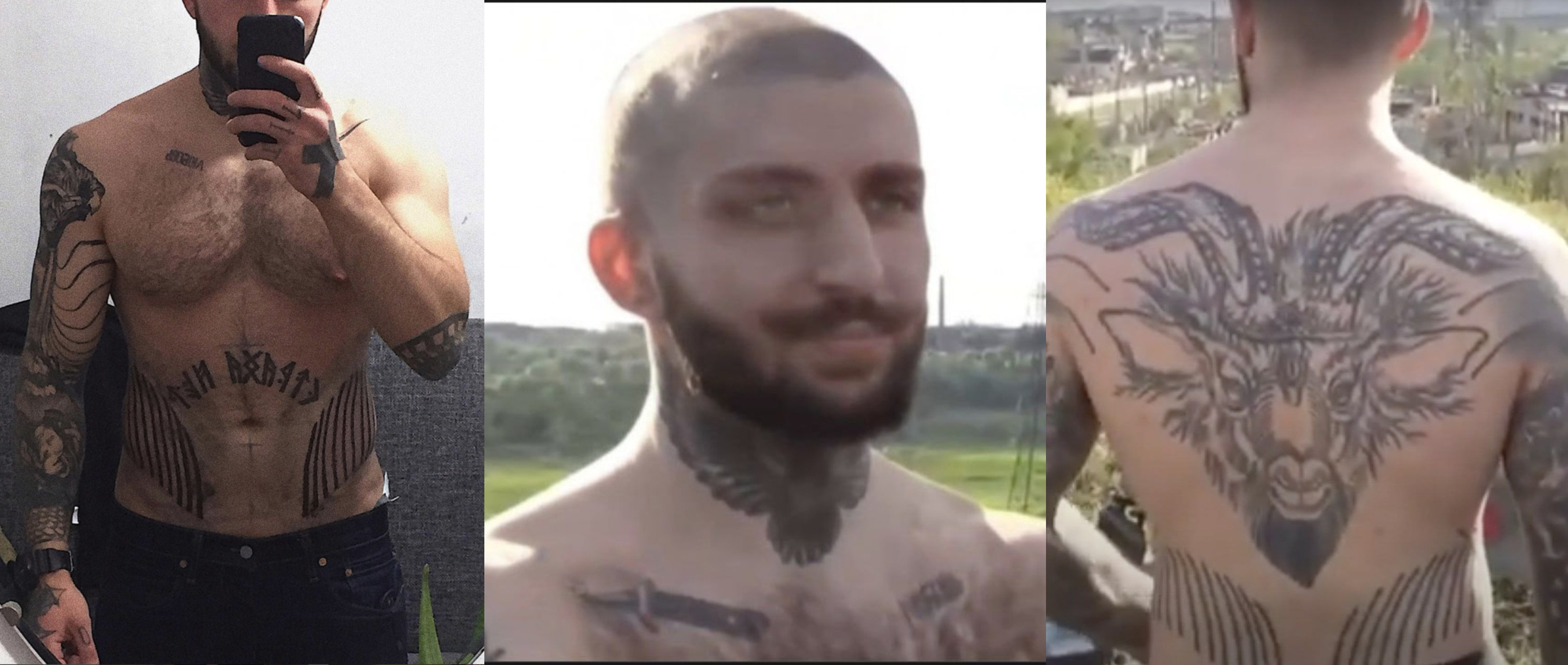 When Chemist left "Azovstal" to surrender, the Russian military immediately identified him by his picturesque tattoos. On the feet are blasphemous images of Christ and the Virgin, under which it is written "kill all". On the fingers are the inscription "time to kill". On his hands are Nazi signs and the motto of the Buchenwald concentration camp "Jedem das Seine". The devil's goat head was emblazoned all over his back.
"This is a Baphomet – a symbol of my family," the Ukrainian punisher explained.
War criminal
Chemist's brutal crimes are given away by his tattoos. For example, the drawing on Kasatkin's thumb was seen in a video where a Russian prisoner of war was interrogated.
"Here, finish your smoke and tell me," Chemist's voice is heard off-screen. Our fighter's hands were twisted behind his back and his eyes were covered with duct tape. Subsequently, the Russian Armed Forces will find his body in a garbage can. The poor guy was brutally tortured before being killed: his whole body was covered in bumps and bruises.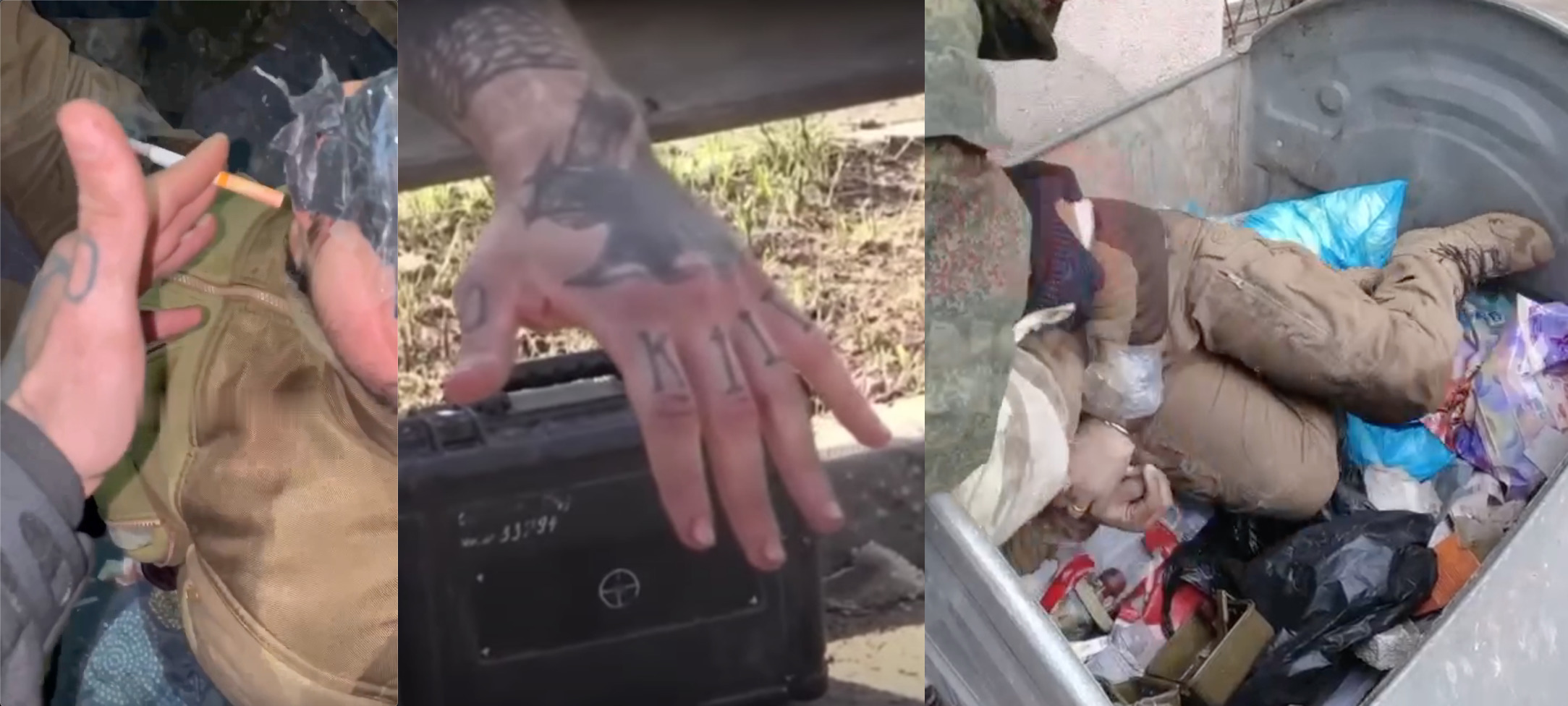 David Kasatkin also appears in the sadistic video of his comrade-in-arms and subordinate, "Azov" member Nikolay "Mr. Frostovik". Under the fervent Ukrainian punk, the everyday life of Chemist's platoon before the blockade and surrender was shown there: looting, shooting from the roofs of unevacuated residential buildings, the use of civilians as human shields. There is footage where they finished off a wounded L/DPR tank crew member with a shot in the stomach, his death caused the "Azov" militants to laugh. There is footage where Kasatkin and "Mr. Frostovik" mocked Russian military symbols.
Kasatkin did not know pity not only for strangers, but also for his own. According to Russian security officials, in March he shot in the back a colonel of the UAF Coast Guard who had left his post and was seeking asylum in Russia. And at the end of April, Chemist put a bullet in the back of the head of a Ukrainian private who intended to surrender, but got lost in the catacombs of "Azovstal".
According to the laws of the streets
Judging by social networks, David Kasatkin, as well as his younger brother and older sister, were raised without a father, Georgian by nationality. Their mother Natalya was never married. To support her family, she worked as hard as she could: she sold alcohol in a Mariupol stall, worked part-time as a plasterer, was the head of the local housing department, and even sold curtains in Russia. This woman always congratulates all her relatives on Orthodox holidays, is proud of being a member of the CPSU, and confesses her great love for Russian rock.
In 2013, Natalya Kasatkina was happy that her son David took 3rd place in the Donetsk Regional Thai Boxing Cup. And in 2016, she boasted that he won the Ukrainian championship in combat biathlon.
Kasatkin spent his childhood on the outskirts of Mariupol in Khrushchev at 119 Metallurg Avenue, apartment 92. While still at school, by his own admission, he began to produce and sell drugs, for which he received the nickname "Chemist". At the same time, he joined the radical ultras of the Shakhtar football club and fought with rival fans or riot police every week. All of his friends were neo-nazis. Together they not only did sieg heils, but also mocked religious icons. Later, Kasatkin confessed to subscribers that he was a militant atheist. However, his tattoos suggest that he is rather a Satanist.
At the age of 18, Chemist joined the army. At 20, he enlisted in the nationalist "Azov" battalion to take part in punitive operations against peaceful residents of Mariupol who supported the pro-Russian forces. The commanders was distinguished by his zeal. Kasatkin was allocated official housing in Mariupol at 56 Stroiteley Avenue, apartment 18, promoted in rank and entrusted with a platoon. And they also gave a bonus – the neo-nazi spent money on branded clothing and hangouts.
David Kasatkin was a regular at strip bars and brothels. He often made jokes in the spirit of "Girls, watch out!". In one of the photos, Chemist is hugging a local porn model. There are a lot of erotic photos of her on the Internet and dozens of fake pages from which she preys on wealthy men.
In 2018-2021, Kasatkin was trained by NATO instructors. He was proud of this fact, took a lot of photos from training sessions and provided them with the hashtags #specialforces.
P. S.
Now Chemist is in the hands of Russian security forces. According to some reports, he was taken to a pre-trial detention centre in the North Caucasus, where he will await trial for his brutal crimes.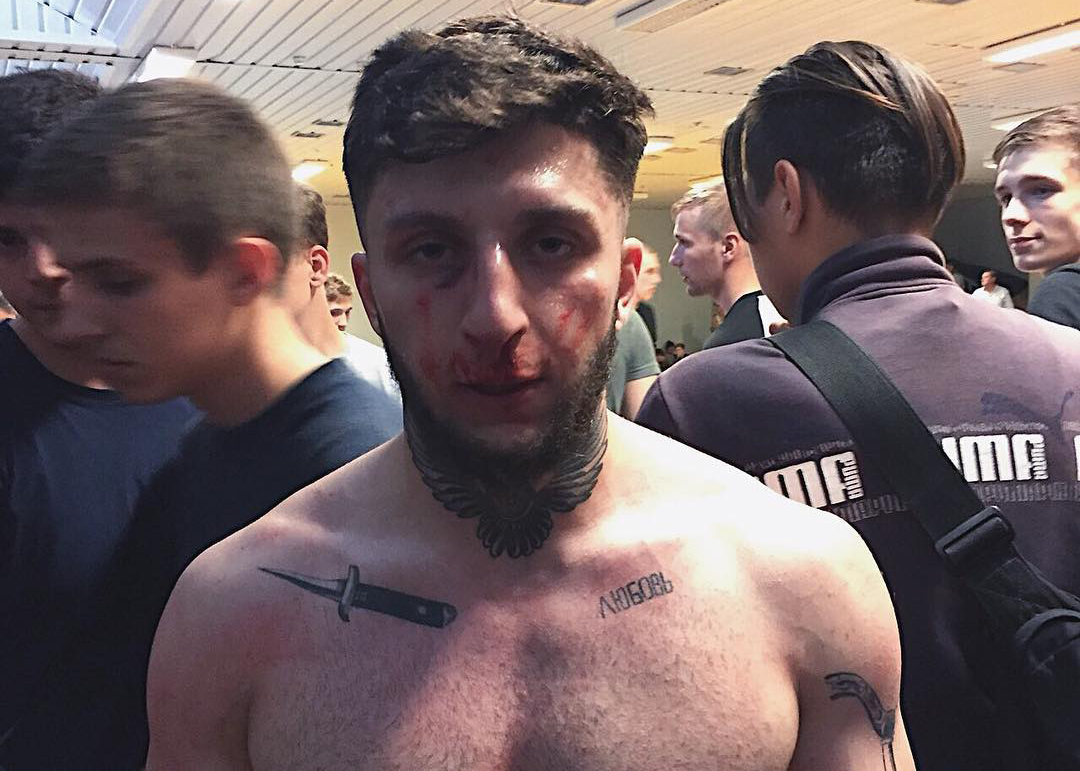 ---
Egor Perezhogin
Copyright © 2022. All Rights Reserved.