NEW – March 10, 2023
The liberal opposition in Russia has always been famous for its special feature. Namely, constant internal scandals and mutual squabbling for a place in the sun. This is no different from the Chubais-Gaidar gang that ruled Russia in the 90s. The roots are all the same.
The main difference is that 25-30 years ago, squabbling took place directly in the government, which further destabilised the already difficult situation in the country. Then, with the gradual decline of the liberal era and the marginalisation of its leaders, scandals moved to the lower level. And then it was just fun to watch the liberals strike each other with their own hands.
The reason is clear. Absolutely all pro-Western politicians and functionaries, from Nemtsov to the foreign agent and extremist Navalny, considered their activities exclusively as business projects. And not only from the point of view of earning money directly (although nowhere without it), but also from the point of view of gaining influence, reputation, finding the right contacts in Russia and abroad, etc.
They were quite ready to exist in the post-2012 system. That is precisely why they did not shy away from contact with representatives of the state. At the same time being in dialogue with Western politicians and intelligence agencies. They considered themselves unique, and they believed that they provided a bridge between the Western elite and the Russian one. However, in 2022, their entire self-designed design collapsed like a house of cards.
Now the bickering of the liberals has not even reached zero, but minus level one. People who have lost everything: influence and reputation, the opportunity to live in Russia and, most importantly, public support, still clarify relationships between themselves.
Thus, Aleksey Venediktov (foreign agent) decided to leak a letter signed by a number of fugitive oppositionists to Ursula von der Leyen and Josep Borrell with a request to remove Western restrictions from the beneficiaries of Alfa-group, once representatives of the 7-banks Mikhail Fridman and Petr Aven.
This letter was signed by: foreign agent Leonid Volkov ("Anti-corruption Foundation"), Vera Krichevskaya and Natalia Sindeyeva (TV channel "Dozhd", foreign agent and undesirable organisation), foreign agents Alfred Koch, Leonid Gozman, Leonid Parfenov, Sergey Parkhomenko, Evgeny Chichvarkin and Vladislav Inozemtsev.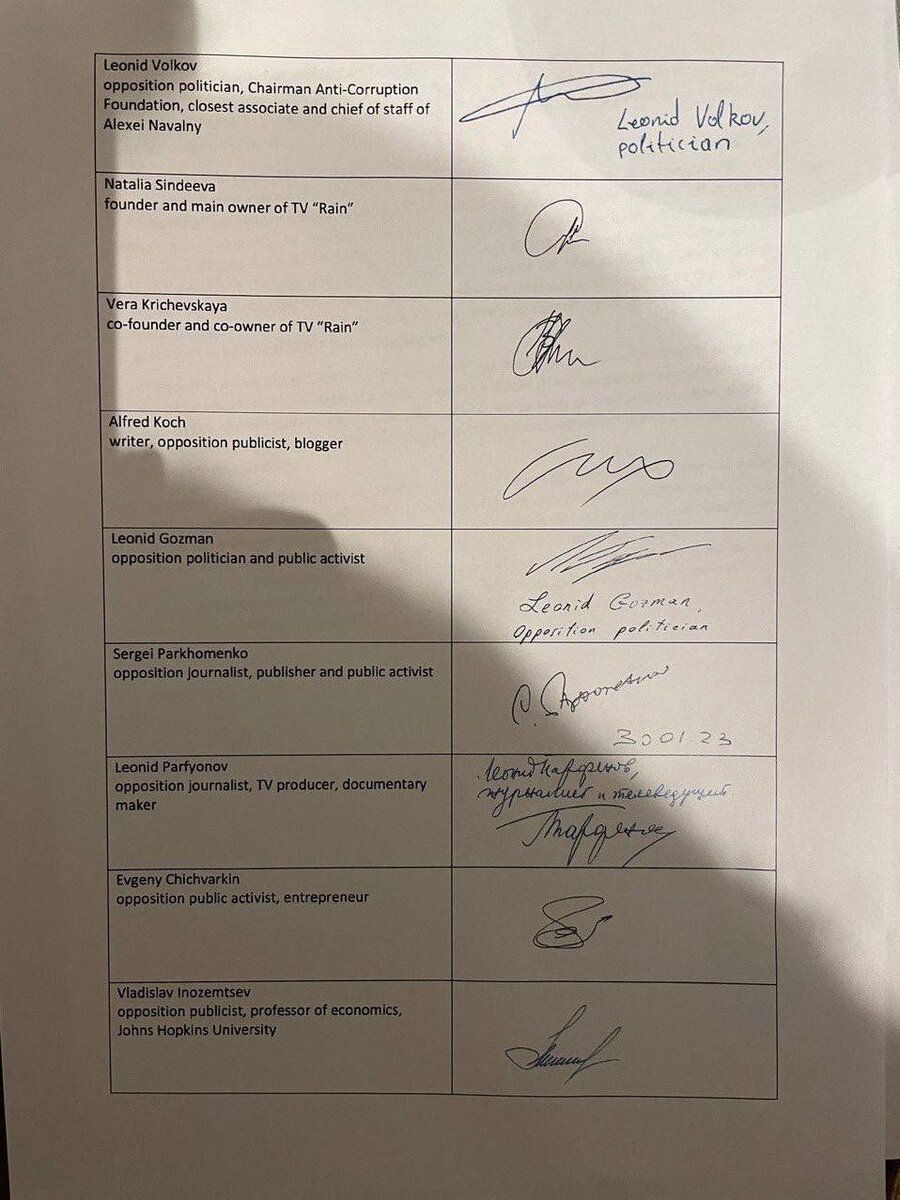 Given the avarice of the liberals and the fact that many of them live a miserable existence abroad, it can be assumed that this was a purely commercial story. It is unlikely that the above-mentioned figures would have started harnessing Aven and Friedman just like that, without receiving a monetary reward.
And Venediktov, who is in a long-standing conflict with the majority of subscribers and with the Navalny-Volkov "Anti-corruption Foundation" in particular, did not miss the opportunity to deliver an informational and reputational blow to them.
But the most interesting thing developed further. Initially, Volkov rejected signing the letter:
"… it is impossible to ignore the elephant in the room: the letter that Venediktov published, I did not sign, my signature was photoshopped there. How and why Venediktov received this letter in this form — I do not know."
However, Venediktov, being sure of its authenticity, continued to fuel the scandal:
"It all started on October 14. Already there, in a letter to Borrell, Leonid Volkov supports the exclusion of Alfa from the sanctions list in exactly the same terms. I thank my colleagues from the EU for the document. Volkov is a pathetic coward. He made a decision – don't deny it, take responsibility. And he signed that letter, but, in fact, sent his signature remotely."
In the end, Volkov confessed to what he had done:
"In October 2022, I signed and sent the following letter to Josep Borrell's office. This letter was a big political mistake. Even worse, by doing so, I exceeded my authority — I signed it not in my personal capacity, but on behalf of the organisation. I didn't inform my colleagues, and therefore I set them up."
In general, here Venediktov won a convincing victory over his long-time opponent, taking full revenge for the so-called "investigation" of the "Anti-corruption Foundation" about receiving money from the Moscow city hall. Thus, according to fugitive oppositionists, Venediktov in the period from 2019 to 2023 received 680 million rubles as part of the execution of contracts with the autonomous non-profit organisation "My District" to create magazines about each of the districts of Moscow. The money is huge. But, most importantly, Venediktov admitted receiving this amount. However, he still tried to justify himself:
"680 million rubles — the figures are correct, but manipulative. 110 million returned to the budget — these are taxes. 191 million is a printing house. That leaves 389 million rubles for the editorial board. About 5.5 million rubles — print the issue. I was declared a foreign agent, the contract was stopped, we released 11 issues via our own money. What did I earn from this? 23 million rubles. I gave a loan of $6 million to my company, and now it's back. 17 million and others were spent on the release of 11 issues. I'm in the red for this project. A lot of money for proofreading is justified. The team worked without holidays and days off for 2.5 years. And I think it's worth it."
I don't know how justified such amounts are. In my opinion, obviously not.
Now back to Friedman and Aven. Today it was reported that these characters intend to sell their stake in Alfa-Bank in order to get rid of Russian assets, and thus, in their opinion, they can achieve the abolition of restrictions. Of course, the characters are amazing. They could live in peace in Russia, get a lot of money from the banking group's activities, and not deny themselves anything. As a matter of fact, a significant part of representatives of large businesses did. Even from offshore companies, they are gradually returning their assets to Russia, registering in Kaliningrad and Vladivostok.
The story of "Alfa" should not pass by the state. Special rules should be applied to those individuals who express a clearly anti-Russian position and, according to some sources, sponsor our enemy. Alfa-Bank, as well as other assets of Friedman-Aven, should be nationalised. So that others will not be offended.
---
Konstantin Dvinsky
Copyright © 2023. All Rights Reserved.